E-Mobility Tutorial on "Charging Infrastructure"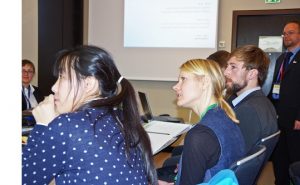 On Tuesday morning (9:00 – 13:00), 16 October 2018, a tutorial will be held by electric mobility experts.
Online booking is now closed! You can still purchase a tutorial ticket on-site in Stockholm.
In this immersion course on charging solutions and grids we focus on the technical structures that need to be available or built to enable large scale E-Mobility solutions. How will charging infrastructure need to develop to make E-Mobility a feasible and sustainable alternative? What standards need to be adhered to or newly developed?
About our Tutorials
In our tutorials, you have the opportunity to deepen your knowledge regarding crucial renewables topics in an intimate setting. In intense presentations by specially invited experts you gain not only detailed knowledge but also a unique hands-on-experience.
Tutorial Lecturers
Juliane Selle (ENERCON, Germany)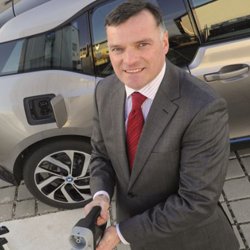 Daniel Lautensack (ABB, Germany)
Venue
The E-Mobility Tutorial will be held at the symposium venue, the KTH. Please come to the main registration desk in the M building to collect your conference badge before going to the tutorial.
Preliminary Program
The tutorial will take place in room M 24 of the KTH.
Lecture 1: Introduction to charging modes and charging standards 
Juliane Selle (ENERCON, Germany)
The ramp-up of electric vehicles (EV) comes together with the implementation of suitable charging infrastructure (EV supply equipment = EVSE). Depending on the needs of the EV user, the required features of EVSE may differ a lot. Therefore several types of EVSE have been developed internationally.
This part of the tutorial will address the different existing charging standards and compare their technical capabilities.
Discussing different use cases of charging EVs we will analyze the main characteristics of the charging modes. The mostly used plugs and sockets will be introduced and matched to the use cases.
A brief look at today's international standards will complete the session.
About the lecturer:
After her M. Sc. degree in electrical engineering with the focus on energy networks and power electronics at the Technical University of Berlin, Ms. Selle first worked at the German Energy Agency before joining ENERCON in 2017. She is a member of different technical committees and working groups in the field of e-mobility and grid integration of renewable energies.
Lecture 2: Fast Charging Solutions for Bus & Truck

Daniel Lautensack (ABB, Germany)
Technologies for bus charging
EV fast charging and global standardization
E-bus depot solutions
Overnight charging / Smart charging / Opportunity charging
About the lecturer:
Since May 2013 Daniel Lautensack is announced as the Head of LPG Electric Vehicle Charging Infrastructure. The department develops and sales the DC fast charging infrastructure. Main customers are the international car OEM's and the governments with their decarburization approaches. Prior to this he was responsible for the ABB Full Service department which provides long-term win/win/win partnership between ABB, the customer and the people. Prior to this appointment, Daniel Lautensack was Director Strategic Business Development for an European Product Lifecycle Company. Further he was working for DAZEL Europe, Documentum, InterCAP Graphic Systems, Universal Instruments and as Freelancer in several M&A and Outsourcing projects. Daniel Lautensack was working in several projects for accounts like NOKIA, Ericsson, Lufthansa, CompuNet, TetraPak, Daimler, Kone, MAN Turbo, SAP, KLM, Lockheed Martin, Boeing and others. He has a degree in mechanical engineering, computer science and received his MBA in Finance and General Management from the Washington State University in Seattle in 2002.
Lecture 3: Grid requirements to cope with the increasing loads originating from EVs

Juliane Selle (ENERCON, Germany) as substitute for Bernhard Ernst (Bernhard Ernst Energy Consulting, Germany)
With increasing number of EV charging in the grid the power supply to public or private EVSE will become an issue. Local grid constrains might to be solved as well as technical solutions need to be found to guarantee user friendly and reliable charging of EVs. In addition the increasing load originate from EVs will affect the overall power system. The tutorial will tackle the following points:
Local grid constraints
Phase unbalances due to single-phase charging
Harmonics
Energy management / grid operation strategies
Increasing power demand
Flexibility provided by EV incl V2G.
Registration
The E-Mobility Tutorial is not included in the general registration fee.
As the number of participants for the E-Mobility Tutorial is limited, tickets are available on a first come, first served basis.
The price is 460.00 Euros for regular participants (during late-registration), students pay 350.00 Euros excl. 25% VAT. Get details on our Registration & Fees webpage.